I had the pleasure of joining Jazzhands McFeels for Fash The Nation yesterday, as mentioned in my republish of Radical Agenda EP070.
We originally planned on doing maybe 90 minutes, and we ended up going for three hours because it would have been professional malpractice for us as radio hosts to stop any sooner. It was that good.
We started off with a trip down memory lane that was really a lot of fun, and then it turned into, as Jazzhands put it "bloodsports" over GOP vs. NJP.
Eminently respectful, of course, but genuinely vigorous. Great, great radio.
Show Description from TRS follows;
Jazz welcomes special guest Chris Cantwell back to FTN after too many years away, take a trip down memory lane, and impromptu (and friendly) FTN bloodsports ensue. 3 hours later, Jazz catches up with Warren, Alan, and Tony for an after-action update on the several NJP protests around the country this weekend, and Jazz goes solo for the last lap deep-dive on the EPA cover-up in East Palestine and the corruption and connections to Jewish sex-trafficking money swirling around Ohio Governor Mike DeWine.
MP3 Available Now: MP3 Direct Download
See Kyle!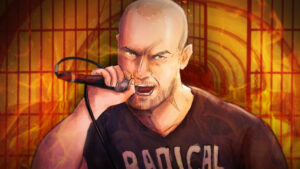 Timestamps:
00:00:00 – Some Garbage Podcast
00:20:00 – Thrush the Nation
00:35:00 – 30 Million Weaponized Benis
00:48:00 – Shut the Fuck Up N
01:00:00 – Cantwell on Fire
01:25:00 – Rand Paul Enjoyers
02:00:00 – FTN Bloodsports
03:07:00 – BREAK
03:10:00 – East Palestinian Liberation After-Action
03:40:00 – Just Jazz
04:35:00 – Heads Will Roll
FTN RSS: http://fash-the-nation.libsyn.com/rss
Jazzhands' Telegram: t.me/jazzhandsunbanned
Chris Cantwell's Telegram: https://t.me/followchris
D'Nate to Chris: https://christophercantwell.net/donate/
Radical Agenda Welcome to the Part Episode: https://christophercantwell.net/2023/01/20/radical-agenda-s06e002-welcome-to-the-party-pal/
Radical Agenda Episode 70: https://christophercantwell.net/2015/12/03/radical-agenda-ep070-fash-the-nation/
National Justice Party Telegram: t.me/nationaljusticeparty
National Justice Party Supporter Page: https://nationaljusticeparty.com/support/
National Justice Party Supporter FAQ: https://nationaljusticeparty.com/supporters-faq/
National Justice Party Supporter FAQ: https://nationaljusticeparty.com/supporters-faq/
Get Vetted for National Justice Party Supporter Groups:
Scroll to the bottom under the section "Send us a message."
Enter an email, select "Vetting" from the Subject drop-down menu, and send in your vetting request
Justice Report News: https://justicereport.news/
Antelope Hill Publishing:  https://www.antelopehillpublishing.com/
Above Time Coffee Roasters: https://abovetimecoffee.com/